1) Cross stitched pansy with cotton floss and beads on silk/TD>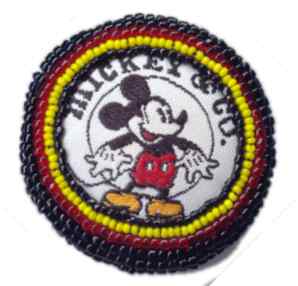 2) Machine Embroidered Mickey Mouse

3)Firepolished faceted beads and small seed beads on white satin with border

4) Beaded openwork shape, clear plastic shank woven in.

5) Cotton floss, metallic floss, pearl beads, green crystal on perf paper, plastic shank

6) Glass beads on Aida cloth

7) Geranium, Green velvet, cotton floss, glass beads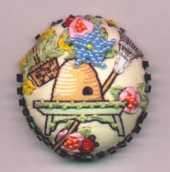 8)  Mary Englebreit fabric, silk ribbon, metallic floss, cotton floss, and glass beads.

9)  Stone donut 14/0 beads

10)  Stone donut 14/ beads, peyote design.
11)  Rock crystal donut, 14/0 beads, adventurine hearts.
 

12)  Carnelian donut, beaded star.

13)  Year 2000 button, printed design embellished with 11/0 & 12/0 beads

14)  ME sunflower embellished with beads

15)  ME Rose embellished with beads.

16)  ME Sunflower enbellished with beads.